Wheelchair Service for Ultimate Customization
Don't just settle for standard equipment—personalize our products to your needs. At The Healthcare Store, we want all of our customers to get the most out of our mobility equipment, so we offer a range of comprehensive services to allow you to do just that.
Sitting in any position for too long can lead to poor posture, which can have drastic effects on your back and shoulder muscles, as well as your spine. However, our professionals know how to add the right cushioning and support to ensure your posture is in line.
Experienced Staff Offering Superior Services
Count on our professionals to help you find exactly what you need. We have multiple certified RESNA / ATP technicians on staff.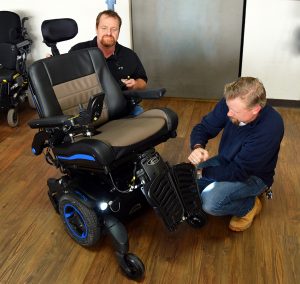 Even if a product isn't perfect for you in the beginning, we can make adjustments as necessary until it fits your needs and lifestyle. With more than 42 years in business, our team has helped countless customers and has gained invaluable experience customizing products. We ask you the right questions about your current mobility aids, take measurements, and evaluate the space within your home, workplace, and vehicle to ensure you have the product that will be most effective for your lifestyle.
Contact us today to learn more about our durable medical equipment services.
Full service shop for service calls and troubleshooting
Delivery of equipment
Custom chairs both manual and power
We work with many different payer sources
Claims department to handle all your insurance needs and questions
We have a full selection of rental equipment, including hospital beds, wheelchairs, and knee walkers
Wide selection of pre-owned power chairs and scooters